Zalis's
expertise
Founded in 2001, Zalis helps companies deal with fast-changing environments. With its impressive track record, Zalis is ranked among the leaders in France for the tenth consecutive year.
Zalis is a member of the CNCEF PATRIMOINE, an association approved by the AMF, under ORIAS number 13000318.
Zalis can intervene at any time in the life cycle of a business, helping it to take a decisive step forward
Zalis provides strategic advice and analysis to help companies adapt to changing environments. Zalis then guides—or takes charge of—operations in support of management to implement the chosen action plan and manage the transformation successfully.
Zalis helps companies structure themselves to reach new heights and assists with financing and origination.
Restructuring, turnaround and rescue: Zalis is a specialist in such difficult situations. We manage financial emergencies and conduct a systemic contextual analysis with a view to restoring profitability.
Zalis has developed a sales/acquisitions process for companies in complex positions or environments. Zalis is a member of the CNCEF PATRIMOINE, an association approved by the AMF, under ORIAS number 13000318.
What makes Zalis
different from other firms
Strategy + Operation
We are both advisors and doers. This dual role requires us to quickly get to the heart of problems and simplify complex situations by mobilizing a multidisciplinary team that will tell it like it is and work hand-in-hand with a company's employees.
Adaptability + Propulsion
No two companies are alike; every situation is different. Zalis constantly adapts to the specific needs of its customers. Improving performance means knowing how to mobilize all your potential (internal and external), and catalyze energy to overcome difficult obstacles.
Confidentiality + Human Commitment
All our mandates are conducted in the strictest confidentiality. Taking into account the human factor in a business is essential in crisis management and exit situations. Zalis relies on teams with complementary skills and even goes so far as to get officially involved by assuming corporate powers. Our commitment is also reflected in our pro bono activities, such as supporting NGOs.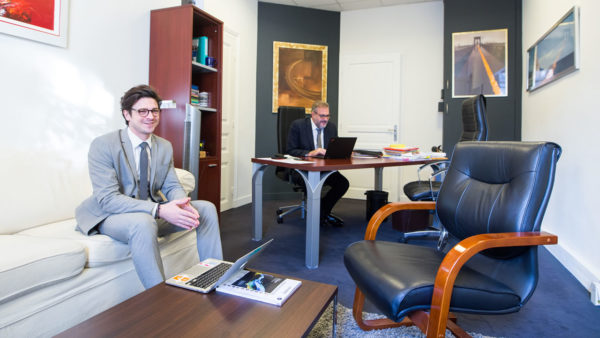 We are extremely responsive and agile, and we quickly get to grips with the issues.
We demystify very complex situations by mobilizing a straight-talking operational team that has complete intellectual independence and empathy in its interactions with a company's employees.
We ensure total confidentiality for our clients.
What makes us unique
We are experts at crafting the right solutions by setting up a team of very experienced and mature professionals, even when it comes to junior consultants.
We help reduce anxiety within a business and give it a human, social touch by taking an approach that promotes employee development.
Energy catalyst: Change is always difficult, especially when a business is in difficulty. Management has a hard time finding the necessary solutions on its own, most often managing short-term priorities at the expense of long-term ones, and has even more difficulty implementing change, choosing rather to re-apply strategies that once worked but are no longer effective. That's where Zalis's teams come into play as energizing catalysts. They design and propose a strategy, then go beyond ideas to implement the action plans.
Pro-bono activity and social support
Each year, Zalis allocates part of its turnover to pro bono activities and also provides support to NGOs or those in the cultural milieu.
Employee buyout
In the very particular case of employee buyouts, funds to pay for sound advice are not always available. For several years now, we have been developing a confidential advisory practice for employees taking over the companies they work for. We believe that it is important to support such endeavors when they are legitimate.
Support for non-profit companies
Zalis helps small non-profit companies involved in social or economic development projects (microcredit, etc.). Such social commitment is very important to us and is one of our company's core values.
Zalis was created in 2001 by Daniel Cohen and landed its first contracts that year.
In the beginning, our business focused on the tech industry
First company-rescue mandates in the high-tech sector (imaging, video games, embedded electronics, etc.). Example: Acquisition of France Telecom's video game subsidiary.
Assistance to companies in the media and entertainment industry in France and Canada.
Industry diversification and internationalization: Work on large projects of international significance
Automotive industry in Poland: Crisis management and takeover of an industrial site.
Industrial sector: Turnaround of many industrial sites.
Services: Support for the rapid growth of SMEs and middle-market companies.
Royal Monceau Hotel Group: Restructuring and implementation of a team that, at times, had up to 20 multidisciplinary employees.
Geoxia, a leader in the construction of single-family homes: Turnaround that helped rescue the company.
Zalis then became a leader in the turnaround industry, in which it was ranked number two in in 2010. Zalis still enjoys the same ranking today. The magazine Décideurs ranks Zalis among the best crisis management and transition firms.
Expansion of Zalis's field of intervention, in particular through business cooperation
Zalis cemented its reputation and broadened its field of intervention when it merged with A&A, Jacques Attali's consulting firm.
Confirmation of Zalis's mid-cap position and first contracts with publicly-traded multinationals.
Zalis signed a strategic partnership in 2010 with B. Riley Advisory Services, one of the leading turnaround companies in the USA, for mandates both in Europe and the USA.
Zalis became a leading consulting firm providing strategic and operational performance advice 
One mandate followed the other and reached several hundred, including, for example:
Zalis took over the management of a tourism and leisure company with a turnover of more than €450 million in order to restructure its finances and manage its business functions.
Zalis assisted a bank/financial institution with its change management and the implementation of a new development strategy for its subsidiary in France.
Zalis provided strategic support and guided change for a company involved in continuing professional education in France (€500 million).
Zalis assisted a heavy industry company in France (€500 million) in its restructuring and turnaround.
Zalis helped a new technology company operating in the USA and Canada with structuring and origination.
Zalis supported many high-potential startups.
New international ambitions:
Zalis opened an office in New York while strengthening its permanent team.
In 2015, Zalis joined the London-based BTG Global Advisory consortium. BTG GA's network is active worldwide, and each member has a predominant position in its region.
Zalis opened an office in Montréal in 2018 and another in Morocco in 2019.